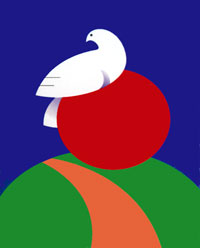 The Danish Peace Academy
There are more than 99,000 documents and illustrations in the Danish Peace Academy. Links are blue.
Avery, John Scales: Danish Peace Academy Report for 2013, 2014


Avery, John Scales: Danish Peace Academy Report for 2011. 2012.


Avery, John Scales: The Danish Peace Academy
Avery. John Scales : Danish Peace Academy Report for 2010


Some Books and Articles on Peace by John Scales Avery.
Countercurrents, 13 March, 2016 .
Disclaimer | Search in the Peace Academy |
Documented Timeline, 1500-2015, January 2015.
Encyclopedia on Peace and Security
Library and online reading room with books, articles and music on peace and war
---
The Danish Peace Academy is an independent, non profit, low budget organization and educational site under development; produced by unpaid, voluntary learned specialists. The purpose of the peace academy is to communicate important information on peace, peace culture and war to its many users from all over the world and to create a Danish peace education.
Comments and suggestions are welcome.
Terp, Holger: Introduction to Peace Songs: A documented playlist over 100 years of music: Collected and documented by Holger Terp, The Danish Peace Academy July 2014.


Terp, Holger: World War One Songs: Collected and documented by Holger Terp, The Danish Peace Academy. July 2014.


Avery, John Scales: Lessons from World War I, March 2014


Avery, John Scales: The Syrian Conflict. Septenber 2013.

Space Alert, fall 2013

Avery, John Scales: Collected Essays. Copenhagen: The Danish Peace Academy, 2013. - 313 pp.
Some of the essays are excerpted from my books on social issues, while others are responses to current events. All the articles are concerned with trying to find solutions to the serious problems with which the world is faced in the 21st Century.

Terp, Holger: Nuclear Weapons Production in the US 1941-2011. - Copenhagen: The Danish Peace Academy, 2012. - 426 pp. - ISBN 978-87-91085-05-5


"This report provides much useful information on the U.S. nuclear weapons complex and the broader history of nuclear weapons development in the United States."

— Lawrence S. Wittner
Professor of history emeritus at SUNY/Albany
Terp, Holger: Bomb Target Norway : A short documented and illustrated introduction to the history and policy of Norway, 08/01/2011

Terp, Holger: Libya During the Cold War : Notes and Exsamples of US - Libyan History During the Cold War Colledted from Foreign Relations of the United States
Terp, Holger: Goliath v David: A short history of the fight against organised peace work, - October 2010


CLEMENTS, Kevin P. (2011). "Review of Goliath vs David: A Short History of the Fight Against Organised Peace Work" [review online]. Journal of Conflictology. Vol. 2, Iss. 2, pp. 70-72. Campus for Peace, UOC.
Professor Kevin P. Clements is Director of the National Centre for Peace and Conflict Studies at the University of Otago, Dunedin, New Zealand.

Avery, John: Urgent Changes To NATO's Nuclear Policy Are Needed In The Run Up To The Lisbon Summit
Report of the Conference on an Arctic Nuclear-Weapon-Free Zone Copenhagen, 10-11 august, 2009

Avery, John Scales: Crisis 21: Civilization's Crisis in the 21st Century, May 2009.


This new book may be published freely on other websites.
Download 34 basic public domain Mahatma Gandhi pdf documents as an ISO-file

358 KB. Right click with the mouse on the link above, chose save destination as, burn a CD-rom, print or read and study.
Terp, Holger: Aint gonna study war no more / Down by the riverside. A discussion on the age of the song

.
Terp, Holger: Down by the Riverside, the incomplete discography.
Friends of Gandhi : Correspondence of Mahatma Gandhi with Esther Færing (Menon), Anne Marie Petersen and Ellen Hørup / Editors: E.S.Reddy and Holger Terp. / The Danish Peace Academy ; Gandhi-Informations-Zentrum, 2006. - 426 pp. - ISBN 87-91085-02-0

Elkjaer, Bo: The lies of the war - the war of the lies.


Bo Elkjær's account of the lies behind Denmark's participation in the invasion of Iraq.
Ekstra Bladet, 2003 / The Danish Peace Academy 2005
Polya, Gideon: US Iraqi Holocaust And One Million Excess Deaths
Greenham Common Women's Peace Camps History / Herstory and Songbooks, recordings & rare illustrations
Social Science Information Gateway:
Description: Holger Terp, Editor of the Danish Peace Academy has created a Web site to document the Greenham Peace Camp Songbook. It contains digitised images of documents and a personal introduction to the historical context. There is an index to the songs.
Hear Carry Greenham Home sung by Peggy Seeger.

Symposium on Strengthening the Nuclear Nonproliferation Treaty:
Christiansborg Palace, Copenhagen November 17, 2008.

Pugwash: Appeal To European And World Leaders To Eliminate The Nuclear Weapons Threat
http://www.pugwash.eu/petition/index.php
Complete English indexes are being made at the moment. The sitemap is Java based. A basic html navigation menu is placed at the bottom of all the files. Though most of the text are in Danish, there are many references to English documentation in the Danish text. From 2003, 2004 and 2005, the Timeline or chronology has grown so fast that the editor did not have time to translate the English articles. This means that the Timeline has a lot of newsarticles in both Danish and English all mixed together. The menu's in the Timeline are in Danish with a few English subtitles. This menu within the months and the many links makes it possible to go back and forward in time. The news link at the top of the frontpage of the Peace Academy links to the current month. As the time goes, the link moves. Introduction in Danish.
Encyclopedia on peace and security. Mostly in Danish, some in English. references in Danish, English and German. Introduction in Danish. Encyclopedia Sitemap.
The online library and reading room on peace and war: books, articles. The text formats are html, pdf,

and zip.
The online library has free and rare publications in Danish, English and German. The timeline has old news (history) from 1500 onward.
Terp, Holger: International Treaties on Peace and War.
The treaty index includes treaties, convention and declarations on: None use of power, Laws on Armed Conflicts (Wars), Arms Control and Disarmament, Conventional Weapons, Nuclear Weapons, Chemical and Biological Weapons, Peace, Security and Cooperation, War Crimes, Crimes against Humanity and Torture. Introduction in Danish. Danish and English text. A few treaties in full text and links to online treaties in English.
Terp, Holger: The War Against Iraq : A selected bibliography.
This nonbiased bibliography indexes books and articles on the war in Iraq from 2003 onward; mainly Danish and English publications are recorded with a few links. Introduction in Danish. Publications are recorded after author and date or title (Danish-English dictonary: the Danish I means in, kilde means source and reflects reviewed literature; literature has both reviewed and non seen litterature from trusted sources).
Terp, Holger: Nonviolence in Islam : The Case of Khan Abdul Ghaffar Khan
Anthologies of poems and songs.
The anthology of poems are mostly in Danish and a few German poems.
The songbook is in Danish with links to French and English songs.

Independent-Testers.org: Test on Website URL: http://www.fredsakademiet.dk/
Webmaster and editor: Holger Terp.
Why a Danish Peace Academy on the Internet?
There is no formal peace education in Denmark. As there at the present are only few members of the Danish peace organizations, the Internet is the best way to communicate peace culture and peace education. The peace academy is under construction and need educators to develop teaching materials for both Danish and English speaking students. Qualified teachers may contact the Peace Academy.
Where can I find information to my lessons?
There is no written exercises. The Academy expects, that the students themselves write their lessons, but even to non-Danish speaking people there is a some help in The Danish Peace Academy in the articles, the databases, and in the Encyclopedia of Peace and Security. For teachers and students there are Danish suggestions to courses of studies in different subjects.
Why does Your education not give competence?
The Peace Academy's education is not yet authorizesed, as other Danish peace education neither has been authorizesed by the ministry of Education. The work with the establishing of The Danish Peace Academy has been done with voluntary, unpaid workers and there is an on going process of quality processing of the documents in The Peace Academy. Until The Peace Academy can stand on it´s own feet, the academy's education offerings and tools of help may be used in other competence given education.
Who are the members of The Danish Peace Academy?
The Union of the Danish Peace Academy consist of people with different backgrounds: former military personnel, civilians, academicians, educators, students, a librarian, a journalist etc. All of whom have seen the need for offering peace education in Denmark. Members are wellcome.
What is The Danish Peace Academy?
The Danish Peace Academy is an independent institution of education and research established 2000, whose members first were selected by The Danish peace movement's co-ordination group on the foundation of the work with the alternative defense commission, The Peace Commission of 1998, who published the Danish report "Love-able Security" ("Elsk-værdig sikkerhed").
Where can I meet the teachers in The Danish Peace Academy?
The Danish Peace Academy is at the present only existing on the Internet. Until we can afford to have bricks, library, administration and rooms for education the meeting place is first and foremost the Internet. The members of the working group of the Academy (the teachers) may be contacted through email:

mail@fredsakademiet.dk, or snail post.
Questions on Denmark's country policy on Nuclear Nonproliferation and Chemical and Biological Weapons
Q: "I am doing a research on Denmark's country policy on Nuclear Nonproliferation and Chemical and Biological weapons it would be kind of you to sent me a copy of your Policy on those topics".
A: I don't know your age and how long you are in your education process. But I shall try to explain and answer your question so you can be able to work further yourselves.
A general introduction to your subjects is: Armaments and disarmament in the Nuclear Age, SIPRI, 1976.
After the second world war Denmark in 1949 joined NATO and have been following the official NATO policies on these matters. Disarmament has been downplayed in Copenhagen since the time of the League of Nations and the only initiative from Danish politicians was about conventional arms sales from 1967.
There is no single paper covering all or even some aspects of Danish policy on Nuclear Nonproliferation and Chemical and Biological weapons. These questions have been discussed by senior politicians behind tightly closed doors since 1923 when the Danish Parliament's (Folketinget) Foreign policy Committee (Udenrigspolitisk Nævn) was established. As in other democratic countries all legestative proposals undergo an process developing a lot of paper trails which have to be followed by the researcher.
The official Danish policy towards Disarmament, Land Mines, Chemical and Biological weapons is given as yearly instructions to the Danish diplomats at work at the UN General Assembly. Ask the Danish diplomats in UN or UN itself for copies of the instructions.
There is officially no nuclear weapons in Denmark in time of peace, according to a Danish governmental decision from 1957/1958. Denmark is a small country, with a big island, Greenland. Even though, there are not nuclear weapons in Denmark in peace time, this does not mean, that Denmark and Greenland is free from nuclear installations and weapons, especially at the American, Thule Air Base. Look at a map and read: Greenland during the cold war : Danish and American Security Policy 1945-68, summary from DUPI (Danish Institute of International Affairs) and Thule and theory : Democracy and elitism in Danish foreign policy. In: Danish foreign policy yearbook, ISSN 1397-2480, 1998 pp. 79-101. Marshall, Andrew: Lost nuclear bomb left to rot on sea-bed. The Independent, Aug. 14th. 2000.
One of the radar's at the Thule Air Base is connected to discussions related to the ABM-treaty. US wants apparently to use the bases in Thule and Fylingsdales, in Britain for its National Missile Defence or Star Wars. You should be able to find articles about the subjects in the Enclyclopedia on peace and war and in the Bulletin of the Atomic Scientists or in American and English newspapers and magazines specializing in international policy.
There have been discussed different proposals to make Scandinavia a nuclear free zone. See Nuclear disengagement in Europe, SIPRI, 1983.
Where can I find information on Nuclear Weapons?
See
Trident and
News about Nuclear Weapons
---
fredsakademiet.dk